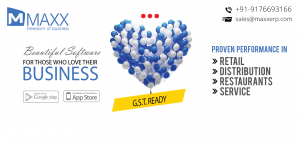 Setup GST in MaxxERP with these videos
Follow the simple instructions provided in the videos and experience how easy is to setup GST in MaxxERP – www.youtube.com/maxxerp
These videos will guide you on Setting Up GST Taxes, HSN Codes, Product wise Taxes and the Date from which GST will be applied.
With MaxxERP you will have the freedom to bill in VAT as well as in GST. You just need to define the GST begin date from which the new taxes will be applied; till then the VAT will be applicable.
Happy to help.
Get in touch with our team to help you get GST upgraded with MaxxERP at the earliest.
You can reach our team on below –
Call : 044-42113166 / 044-42313166
Whats App / SMS : +91-9884112747
Email : sales@maxxerp.com