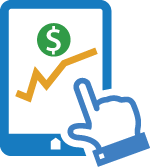 ---
Business Benefits & Advantages
MaxxERP is an all-in-one app to run your entire business that
enables you to do abundance of business with peace of mind.
---
---
Why MaxxERP?
Accuracy in Accounts
Clarity of operations
Reliable user level security
Intuitive UI & easy to understand
Popup Notifications
Intelligent Alerts & Suggestions
Precise Numbers & Statistics
Awesome Speed
Personalized Attention
Very Simple, Easy & User Friendly
Online Webinars
Hassle free scalability
Smart Analytics
e-Help Manual
e-Learning Videos
Fantastic After Sales Support
One Click Auto Updates
Graphical Business Dashboards & Snapshots
Code Level Customization
Super-Active Developers Team
Powerful Search Engine
In-Built Report Designer
Highly recommended
15+ years of exposure & expertise
Huge list of Happy Clients
Built on Latest Technology
Robust Performance
Quick Migration from any existing software
Fully Loaded Business Boosters
Continuous R&D and C&D
Loved by CA's and Users
Exception Monitoring & Tracking
Seamless Scalability along with growing business needs
---
Advantages & Business Benefits
Empowers Entrepreneurs - Enables delegation and improves operational control
Improves team Productivity & Efficiency
Gain solid reporting and multi-dimensional analysis
Makes every team member accountable for their role towards the organizational goals
Operational cost optimization
Streamline store operations and business processes
Improve communication and collaboration
Better control over demand and supply
Analyze key information for effective management & better decision making
Retain growing customers and build successful relationships
Complete clarity in each transactions flow
Adaptable to growing business needs
Remote installation and support model
Virtual class room & hands on training
Access to customer support website
Continuous R&D and C&D (Connect & Develop) to provide best & latest trending features
---
Solution Highlights
Head Office - Locations - Warehouses - Multiple Companies - Scalable Model
Advanced user access control & user action tracking
Robust procurement pricing & credit control
Location wise - Client wise - Product wise price management
Graphical Business dashboards, Snapshots, Key performance indicators
Barcode - size, color, style, brand, design wise inventory attributes management
Transaction level authorization and approval
SMART Reports - Self designable business intelligence reporting tool
Workflow Setup - System tells users what needs to be done
Popup alerts for payables / receivables / reorder levels / expiry / events / reminders
Promotions - Coupons, Gift vouchers, Offers & Schemes, Membership Loyalty points, Value cards
Universal languages supported in document printing
Integrated set of modules - all-in-one solution to manage complete business
Power packed business boosters to get more done.