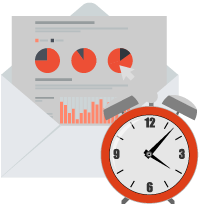 Never miss any appointments / events / tasks.
MaxxReminder tool helps its users to set reminders for every transactions, customer / salesperson birthday and anniversary as well as setup direct custom reminder for other user which will be popped on screen on its defined schedule.
---
Reminders are required by almost everyone for different tasks executed in a day. MaxxReminder tool is well integrated with MaxxERP and helps its users to get reminded on different business aspects like Contacts birthdays & anniversaries as well as can be integrated with each transaction to offer additional services / call for payment, etc. Users can even define their custom reminders as well as set reminders for other users too. Reminders can be in form of On-screen popup, SMS Alerts and Email Alerts as well as it even gets integrated with calendar with option to define recurrances too.
Reminder Types - On-screen popup / SMS / Email
Option to define reminder for other user as well as custom reminders.
Option to define multiple reminders for each transaction.
Auto Birthday/Anniversary reminders setup for Contacts/Sales Persons.
Integrated with inbuilt Calendar for Daily / Weekly / Monthly events view.
Upcoming Reminders report.
User wise calendar / reminders.
Auto reminder setup from Master information.
Reminders on missed events as well as current events.
Increased customer relationship
More business opportunity generation by linking with transactions.