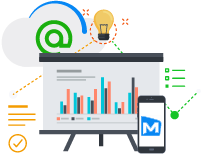 Monitor your business from anywhere / anytime / anydevice.
MAXX Web Reporter tool is used to view MIS reports related to Sales, Purchase, Accounts, Oustandings, Inventory, etc from anywhere, over any mobile device connected over internet using the MaxxERP Cloud Application Platform.
---
Gone are days where owners were required to sit in front of system to access their business data. Monitoring different aspects of business is the necessity of every growing business today. MaxxWebReporter helps you to access your business data like Sales report, Outstandings, Expenses, Accounting reports from anywhere, anytime and using any device thru the MaxxERP Cloud Application Platform..
Almost all business related reports can be from anywhere.
Efficient Cloud application platform with auto sync facility.
User defined permissions to access different reports.
Runs on any Mobile device with internet access
Can be accessed from anywhere and anytime over any device connected over internet.
Monitoring of Stock status & sales reports on the move.
Quick view of outstandings & other accounting reports.
Saves time & efforts & costs of querying things.