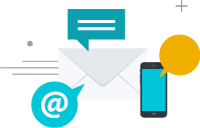 Stay more connected with your customers with SMS & Email Alerts.
MaxxAlerts booster helps users to send custom SMS/Email message alerts to Sales Person, Contacts and Admin. Users can create different types of personalized templates based on the different transaction and report across the application.
---
SMS and Email are an important communication medium in the present business market. Using SMS and Emails, customers and vendors can be informed about different transactions details to have better clarity. By using the MaxxAlerts business booster, Retail business can remain more connected with their customers by sending information about different promotions, offers and schemes via SMS and Emails. MaxxAlerts enables you to design personalised template for different user actions and configure the same to send to Contacts, Admin and Sales Person with/without on screen confirmation.
Helps in mass communication.
No manual user intervention.
Quick communication via Internet with private Sender ID.
Value addition & Professional Approach.
Multiple Personalized SMS & Email Templates can be created.
Transparent Operations.
Bulk Payment Reminders in click.
Bulk Despatch & Transport details update to contacts.
Less communication gap.
Cheap and Effective marketing medium.
Personalised SMS and Email to contacts.
Avoid manual efforts of sending promotional Email or SMS.
Smart way of keeping in touch.