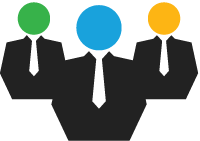 Robust Sales Force Performance = More Sales = More Profits
Make your sales team more productive by defining their targets, Show pending follow ups for payments and tasks on login, define customer wise / product wise / custom incentive percentage and generate their turnover and incentive reports, view sales person wise graphical dashboards and analyse their monthly progress and product group wise sales, thus boost their performance and profits.
MaxxERP has a robust sales force management system using which each master / transaction wise sales person can be recorded and report could be generated accordingly. Sales person wise targets could be defined on yearly / monthly basis and a graphical report to compare it against the actuals could be generated to analyse performance. Sales person dashboard report helps users analyse and compare different sales person monthly performance as well as product wise sales on a single click. Sales person turnover based Incentives / Bonus / Commission report with Customer wise / Product wise / Custom % can be generated in clicks which helps everyone have clarity in transactions and generate more business.


MaxxERP is a beautiful online Sales force management software.
Its very simple & easy to use sales force software over the cloud.
Being a Web based Sales force software makes it accessible anywhere over internet.
MaxxERP is the best Sales force software system that can be used on Desktop, Web and Mobile.
Manage your business Sales force related operations with Complete Clarity.
MaxxERP is a secured online Sales force application on cloud for small businesses too.

Robust Sales Force Management
1 Click Sales Person Incentive / Bonus report generation - Customer wise % / Product wise % / Custom % on turnover.
Barcode wise Sales Person commission amount / percentage definition and report accordingly.
Sales person monthly performance graph and Product group wise sales report.
Sales person Target Definition vs Actuals report.
Sales Transaction wise / Sales Transaction Product wise sales person definition option.
Sales person pending tasks and payment follow ups, visit and activity tracking.
Sales person integration with every transaction.