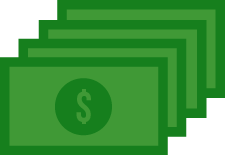 Accounting Means Accuracy, Reliability, Clarity and … Profits.
MaxxERP is an robust integrated solution to track your Incomes & Expenses, Outstanding Payables and Receivables, Post Dated Cheque (PDC) & Returns, Cost Centers, Multiple Currency Transactions, Advances, Counter Petty Cash, Bank Accounts & Reconciliation and almost every business finance related operations with ease.
Finance & Accounts is the secret key of every business which reflects the standing position of different aspects like Receivables & Payables, Incomes & Expenses, Cash & Bank Transactions and Gross & Net Profits in fraction of seconds. Managing a big set of contacts along with volume of cash/credit/card/bank/advance/adjustment transactions can be a challenging job. MaxxERP enables individuals to keep track of every single transaction with complete clarity and helps you generate a detailed account wise transaction history report, reconcile bank transactions, deal in multiple currencies, manage PDC's, handle Petty cash in matter of clicks.


MaxxERP is a beautiful online Accounting management software.
Its very simple & easy to use Accounting software over the cloud.
Being a Web based Accounting software makes it accessible anywhere over internet.
MaxxERP is the best Accounting software system that can be used on Desktop, Web and Mobile.
Manage your business Accounting related operations with Complete Clarity.
MaxxERP is a secured online bookkeeping application on cloud for small businesses too.

Manage your accounts at your fingertips
Accounts integrated with all other modules for smooth operations
Multi-level chart of accounts and cost center supported.
Petty cash management
Cashier management
Authorizations for transactions
User defined accounting calendar and year end process
Cost center and store income & expenses analysis
Option to Import Ledger and Billwise Transactions From Excel.
Receipts / Payments / PDC Receipts / PDC Payments - Voucher wise / On Account Adjustment
Advance Receipt Management & Settlement in Transactions.
Journal/Contra/Credit Notes / Debit Notes Vouchers to Adjust differences in Accounts.
Cheque Return with Auto Return Charges Posting in the givers account.
Multiple Reference Adjustment Options – Debit Against Credit
Receivables / Payables report with Virtual Outstanding affecting PDC & Actual Outstanding + Transaction wise Receipt/Payment/Adjustment history track.
Receipt / Payment Vouchers with direct option to adjust discounts/excess amount.
Group Ledger / Tour Ledger Report.
Bank Reconciliation Statement
Checklist Report - To Track Voucher Wise Transaction in a specific date range.
Auto Interest Calculation with User defined days of year.
Final Account Reports – Trial Balance, Trading, Profit & Loss and Balance Sheet with Manual Stock Value adjustment.
Ratio Analysis Report across multiple accounting groups.
Day Book, Collection book & other general Statutory Reports