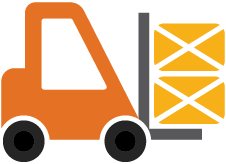 ---
Purchase goods - at right time - at best prices - from most reliable vendors.
Procurement module keeps you informed on vendor's performance, product wise rate history for comparison, credit limits and payment & discount terms enabling you to catch the best profitable deal.
---
Procurement Module enables purchase managers to streamline the purchase operation by helping identify the best vendor for different products and cut down on purchase cost. On screen Performance graph displays vendor wise different values like Orders, Purchases, Payments, Returns, PDC to quickly evaluate transaction history. Different taxes can be opted for local and outstation purchases as per the vendor terms. Product wise rate history from the same/different vendors helps you to compare and negotiate pricing with same vendor or opt for the most optimum one. With features like Import From Multiple Orders / Import From Multiple Challans / Import From Other Vouchers / Copy Vouchers / Quick Returns / Import From Excel enables users to avoid a lot of manual data entry work as well as save lump sum amount of time.


MaxxERP is a beautiful online Procurement management software.
Its very simple & easy to use Procurement software over the cloud.
Being a Web based Procurement software makes it accessible anywhere over internet.
MaxxERP is the best Procurement software system that can be used on Desktop, Web and Mobile.
Manage your business Procurement related operations with Complete Clarity.
MaxxERP is a secured online Procurement application on cloud for small businesses too.

Faster and Better Procurement management System
Vendor Credit Days / Limit exceed Alert/Block setup
Vendor Last 12 Months Performance Graph
Product Wise Rate History Comparison With Same / Multiple Vendors
Multiple Orders Partial/Full Qty wise quick import to Single Purchase.
Multiple Challans Partial/Full Qty wise quick import to Single Purchase.
One click Copy Voucher option
One click Quick Purchase return conversion.
Multiple warehouse assignment with single line item entry.
Multiple Batch/Barcode generation with single line item entry.
Manufacturing, Expiry, Size, Color, Brand, Size wise different rates, Custom fields definition options.
Option to Define Mark Up / Mark Down and arrive at sales rate and generate barcodes for each individual qty.
Option to arrive at accurate cost rates product wise by Adjusting Discounts and Adding Vendors Expenses + Out of Pocket Expenses in the exact ratio of individual product value based on which FIFO based profits / stock valuation will be arrived.