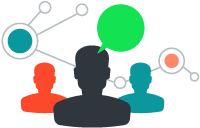 Chat with individual Maxx users right from your desk.
MaxxTeamTalk Booster helps its users to chat with users. MaxxTeamTalk tool is a messaging service available in MaxxERP using which sharing any business related information between logged in users becomes easier and quicker.
---
Text messaging/chatting is considered to be a very cost effective medium of information sharing. MaxxTeamTalk tool brings you an effective text chat tool using which users can directly interact with other users from their desk. Complete chat history is logged with messenger details and date time so that users use the tool effectively only for business purpose.
Single click to start Team talk chat.
Individual chat can be maintained.
Multi chatting can also be done.
User status can be checked.
User chat logs can be traced.
Quick way passing the information.
Efficient Chat tool.
High clarity in tracking the chat.
Discussion becomes easy.
Quick Decision making.